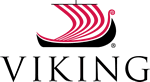 Discover an innovative and destination-focused style of cruising with Viking, winner of the Travel & Leisure "World's Best" award in the Large-Ship Ocean Cruise Line category in 2016, 2017 and 2018. Immerse yourself in the history, music, art and cuisine of each destination on Viking's well-crafted itineraries. Culturally rich shore excursions led by knowledgeable local guides are included at every port of call and are meticulously designed to help you experience the most from your travels. On the ship, a curriculum of cooking classes, performances, lectures and group discussions with a resident historian complements your onshore experience.
Sleek and well-appointed, the all-veranda Viking ships offer superior service and regionally inspired gourmet cuisine. Each vessel features multiple dining options, from a casual pool grill and alfresco cafe to wine-pairing menus at a chef's table restaurant. Wine, beer and soft drinks are included with lunch and dinner, and complimentary room service is available around the clock.
The state-of-the-art ships enjoy direct access into most ports, ensuring easy and efficient embarkation and debarkation. Guests can relax and enjoy the comforts and luxuries of a refined atmosphere, understated yet elegant Scandinavian design and airy public spaces.
Viking is dedicated to adults and therefore does not carry children or teenagers under the age of 18.
In addition to oceangoing cruises, Viking also offers river cruises in Europe, China, Egypt and Vietnam and Cambodia. To see itineraries and prices for Viking river cruises, click here.
Officers: European
Crew: European